---
Greater Cleveland County Baptist Association
Pastorless Churches:
*Send Resume to Church office unless otherwise noted.
OTHER MINISTERIAL POSITIONS AVAILABLE:
Senior Pastor:
Fallston:
Fallston Baptist Church, Fallston, NC is prayerfully seeking a pastor with a heart for God's work, a seminary degree, a broad knowledge of the Bible, communication skills easily understood by all ages, a willingness to visit the sick and shut-ins of the church, and a desire to grow the church and spread the gospel in our community. We are a diversified community with a varied socioeconomic membership belonging to both the Southern
Baptist Convention and the Greater Cleveland County Baptist Association.Please send Resumes to: Pastor Search Committee, Fallston Baptist Church, PO Box 116, Fallston, NC 28042, Or Email: [email protected]
---
Fellowship Missionary:
Fellowship Missionary Baptist Church in Mount Airy, NC is seeking to serve with a pastor who is faithful to God's leadership and sensitive to His discernment. A servant leader that will display enthusiasm and encouragement and has the ability to effectively lead, motivate and strengthen the body of Christ.
To find out more about our congregation, please visit our website at www.fellowshipbaptistmountairy.org Please send resumes to the Pastor Search Committee: [email protected]
---
Lafayette Street Church:
Lafayette Street Church is seeking a
Permanent Part-time Pastor
.
Could our brand new old church be your next call? We were a 208 year old
United Methodist Church until September 26, 2022, when we disaffiliated from the denomination and became an independent congregation of faith. We have asked our Lord, Jesus-The Christ, for a new flock-leader. Is He leading you to give us a closer look as Your Call to ministry? We are located in Shelby, NC, about half-way between Asheville and Charlotte, NC and about 60 miles north of Greenville, Spartanburg, SC. Before leaving the denomination, our attendance had declined to about 35 per Sunday, but since then, our Lord has blessed us with returning members as well as
new folks-increasing our attendance to close to 60 and we continue to grow each week! Our ministry team had declined to a single pastor, but in the past 2 months the Lord has added three new paid staff to the ministry team; a Minister of Music/Worship Leader, a church musician/accompanist, and a new church Office Administrator! Also, a new volunteer Youth Leader will start this month! Are you the one He has willed to lead us to our next place in His Kingdom? We have a large physical plant with a large, beautiful sanctuary, fellowship hall, kitchen, remodeled restrooms, offices, classrooms, parking, recreation area, and playground. Our county is preparing for a housing expansion including one 400 Town-home Subdivision across the street from the church. If our Lord is providing
you some vision for how you would lead us in these coming times, we want to talk to you. Please contact us and let's begin to pray and share how our Lord may lead us together.
Please send resumes to :
[email protected]
or mail to Lafayette Street Church, 1420 S. Lafayette Street, Shelby, NC. 28152, Atten: Church Administrator
---
Lawndale Baptist:
Lawndale Baptist Church in Lawndale, NC is seeking a full-time pastor to shepherd and grow the church.  To provide Spirit led, bible-based preaching and teaching. We support the SBC, NC Baptist State Convention, and our local association (The Greater Cleveland County Baptist Association). If the Spirit is leading you to serve our church, please send resumes to:                LBC Pastor Search Team
PO Box 55
Lawndale, NC 28090
Or email: lawnda[email protected]
---
Second Baptist Church of Cherryville:
Second Baptist Church of Cherryville NC is prayerfully seeking a full-time pastor. We are located approximately 40 miles northwest of Charlotte NC.
SBC is a traditional congregation averaging approximately 160 in Sunday morning worship.
The ideal candidate should exercise proven skills in preaching, teaching, and discipleship; provide engaging, expository, and relevant messages from God's Word that makes a difference in daily lives. He should also demonstrate strong pastoral skills in visiting and shepherding the flock.
The ideal candidate should be identified by showing behavior that consistently shows obedience to God, faithfulness in marriage (husband of one wife), self-control in spirit and actions, able to make appropriate decisions for the good for the kingdom of God, Christian dignity in behavior patterns, genuine care for persons, effective teacher of the truths of God, abstain from the use of alcohol, a gentle spirit, a peacemaker, actions not motivated by the love of money, spiritual leader of his family, mature in Christian belief and practice and credibility that attracts those outside the church.
The candidate must adhere to the Baptist Faith and Message 2000. Bible College or seminary training and at least 3-5 years pastoral experience is preferred.
Resumes and links to sermons may be mailed to Pastor Search Committee 201 North Houser Street, Cherryville, NC 28021 or emailed to [email protected]
Deadline for resumes is open-ended.
---
---
Youth and Children:
Campfield Memorial Baptist Church in Ellenboro, NC is seeking a Youth Pastor. Responsibilities include planning, directing, conducting, evaluating, and administering a comprehensive youth ministry for the spiritual development and discipleship of the youth.
To receive a detailed job description or to submit a resume please email [email protected]
---
______________________________________________________________________________
Camps Creek Baptist Church, Mooresboro, NC 
Part-time Children's minister  We are a loving community based church who is founded in God's Word, Christ centered, and desires to share the gospel with others.  We are looking for someone who is solid in their faith and grounded in the Bible.  This person will minister to and direct the ministries of children and their families. Responsibilities include planning, directing, conducting, and developing these ministries for the spiritual growth and discipleship of the youth and children.  You need to have good communication skills, the ability to work well with staff and volunteers, and display a love for students with a desire to disciple them in God's Word. 
Please send resumes c/o Personnel Committee to [email protected] or 2323 Camp Creek Church Road  Mooresboro, NC 28114  
For additional questions (704) 434-2354
---
FIRST BAPTIST CHURCH
Shelby, North Carolina
Position Profile
Position: Children/Youth Pastor
Status: Full-time
Reports To: Business Manager and Lead Pastor
All questions and/or resumes can be emailed to Eli Wortman at [email protected]
Summary: The Children/Youth Pastor is primarily responsible for engaging our families and their children/youth through small groups, classes, special events and other programs. The purpose of family ministry at FBC is to help develop disciple-making students who love Jesus and who engage their friends, neighbors, and classmates with the good news of Jesus.
Responsibilities:
● Coordinate and catalyze ministry to children and youth in Cleveland County and their families by helping our newborns through 12th graders walk in the way of Jesus Christ.
● Recruit, train, and motivate volunteer leaders to journey alongside our children and youth at FBC.
● Give leadership to the work of the Youth Ministry Assist Team (YMAT), the
Children Ministry Assist Team (CMAT), and provide vision to the shape of
children's and youth ministries in dynamic collaboration
● Coordinate opportunities for parents to feel cared for and supported.
● Support children, youth, and their families through direct pastoral care efforts as time allows and in conjunction with ministry staff, being physically, spiritually, and emotionally present for them throughout the changing seasons of life. Meet children and youth where they are at school and extracurricular events when and where appropriate.
● Serve as the lead administrator for children and youth functions,
collecting payments & forms throughout the year and managing the
various youth funds.
● Offer leadership in worship for Sundays and special services.
● Preach on occasion in worship gatherings when applicable.
Job Logistics
● Hours: full-time
● Timeframe: Position is currently available and can be filled as soon as new hire is able to begin.
● Compensation: TBD. Based on experience
● Work week:
○ Sundays — Sunday worship, youth and children afternoon/evening
activity (6-8 hrs)
○ Weekly ministry staff meetings (Mondays)
○ Mid-week evening program for children and youth
○ Routine opportunities for connection with children and youth
○ Additional regular commitments
■ Regular meetings leading children and youth volunteers and assist
teams
■ Preparation time for family events
■ Ongoing — communication with staff and families by phone, text,
email; time in relationship-building with youth
○ Additional as-needed commitments
■ Occasional children and youth trips/retreats
■ Camp in the summer
■ Pastoral care as needs arise
Qualifications:
● Bachelor's degree required; Master of Divinity or similar degree preferred
● 1-3 years of experience in children or youth ministry strongly preferred
● Previous church work experience strongly preferred
● Highly-developed skills in interpersonal communication (verbal, written,
listening), with a strong sensitivity to appropriate discretion and confidentiality
● Ability to work and interact in a collaborative environment with colleagues and church members, while being an independent self-starter
● Commitment to full and positive engagement within the vision of the church to make disciples in Cleveland County for the glory of God.
---
Flint Hill
Flint Hill Baptist church is officially searching for an interim, part-time Youth Minister to begin January 2023.  Main responsibilities will be Wednesday evening youth fellowship and Bible Study.  We anticipate that this person will serve until the permanent position is filled later.  Anyone interested should contact Joe Ledbetter or Tammy Hoyle for official job description and additional information or send a resume' to [email protected].
---
Lattimore Baptist Church in Lattimore, NC
Lattimore Baptist Church in Lattimore, NC, is currently seeking a part time Family Minister to lead our youth and children and to develop spiritual opportunities for families.  The primary responsibilities include: visiting families in the community who have youth and children, coordinating and leading weekly discipleship programs, monthly ministry events and mission projects, and planning activities for families.  (A complete job
description can be obtained from the church office by calling
704-434-2450.)  The LBCFM is expected to encourage the children and youth in their spiritual development by building relationships and ministering to them, their families, and the church family. He/she will partner with the church staff in helping to plan and lead worship and serve in various ministry roles.  The position will require 18-20 hours per week with an annual salary of $15,600.00.  Applicants can email resumes to:
[email protected] or mail to Lattimore Baptist Church,
atten: LBCFM Search Committee, PO Box 188, Lattimore, NC 28089
---
Tri-City Baptist Church in Conover, NC is seeking a full-time Student Minister. This position is responsible for planning and directing a comprehensive, energetic, and life changing ministry for middle and high school students. The Student Minister works closely with the Senior Pastor, church staff, and student ministry leaders to set goals, establish programs, provide leadership, and develop strategies and policies supporting the overall mission and strategies of the church. Qualifications include a relevant BA/BS and at least 3 year's related experience.
For more information about our church, visit www.tcbc.org. Interested candidates should email a letter of interest and resume to [email protected], SUBJECT: STUDENT MINISTER POSITION.
---
---
Music:

Concord Baptist Church:
Bostic, NC is currently seeking a part-time PIANIST.  Concord is a congregation with a blended mix of worship.  Anyone who is interested please send resumes to PO Box 70, Bostic, NC 28018 or to Jamie Allen at [email protected]
---
Flint Hill:
Flint Hill Baptist Church is seeking a Pianist to play for worship services, choir rehearsals, and other occasions in support of the music ministry of the church. Anyone interested in this position please send a resume electronically to: [email protected]
---
Lily Memorial
Lily Memorial Baptist Church is in need of a pianist/choir accompanist. Music is traditional. Responsibilities would include Sunday morning service at 11:00, Sunday afternoon choir practice at 4:30, Sunday evening service at 6:00 and Wednesday night prayer meeting at 6:00. Resumes may be mailed to Lily Memorial Baptist Church, 406 Whitener St. Shelby, NC 28152.
---
Mt. Pleasant Baptist
Mt. Pleasant Baptist Church in Mooresboro, NC is searching for a pianist to serve its Music Ministry. The applicant must be a proficient keyboardist who can skillfully perform a variety of worship music styles including traditional, contemporary, spiritual, gospel etc. and who is capable of accompanying a 4-part choral rehearsal and performance.  This is a paid position.  If interested or need more information, please contact Minister Of Music Rodney Lattimore at 828-289-9322 or [email protected].  Mt. Pleasant Baptist Church is located at 1301 Mt. Pleasant Church Road Mooresboro, NC 28114
---
Mt. Zion Baptist Church
Job Opening
Job Title: Interim Music Director
Department: Ministerial Staff
Position Status: Part-Time
GENERAL JOB REQUIREMENTS
• Directs the music ministry of the Church.
• Assists the Pastor in planning all worship services.
• Arranges and provides music for funerals, special services and other Church-related activities upon request.
• Model Biblical integrity in all things.
• Available 6 to 10 hours per week including partial office hours.
SALARY INFORMATION
During limited church activities, the pay will be $140.00 per week based on 10 hours at $14.00 per hour. When we resume more activities, including choirs both adult and children, the rate will increase to $196.00 per week based on working 14 hours per week at $14.00 per hour.
A typical week (currently) would look like:
4 hours on Sunday Morning
2 hours on Thursday Evening (Praise Team practice)
Possibly an additional 4 hours per week for planning or other functions
Mt. Zion Baptist Church
1787 Cajah's Mountain Rd Hudson, NC 28638 828-396-1241
[email protected] mountzionhudson.org
Office Hours: M-F 8:00-4:00 Pastor – Stephen Owen
---
New Camp Creek:
New Camp Creek is seeking a part-time music minister. If interested please contact Pastor Tim Smith – 704-207-7058
---
Oak Grove:
Oak Grove Baptist Church is prayerfully seeking a permanent part-time pianist that can read music and play traditional hymns and contemporary music. Responsibilites include Sunday morning & evening Worship Serve and choir practice. If interested, and more information, please mail resume to: Oak Grove Baptist Church 1022 Oak Grove Rd. Kings Mountain, NC 28086 Attn: Josh Hamrick. You may email to [email protected]
---
Pleasant Hill:
Pleasant Hill Baptist is in need of a pianist/choir accompanist for Sunday morning worship and Wednesday night choir rehearsal. Music is traditional/blended style. Contact Amanda Lowery [email protected]
---
Polkville:
Polkville Baptist Church is seeking a part-time pianist. Responsibilities include worship service, rehearsals, and additional special services as needed. Interested applicants need to submit a cover letter, resume, and references to Polkville Baptist Church at: P.O. Box 245, Polkville, NC 28136
Or email to: [email protected]
Please include pianist in subject line.
---
Poplar Springs:
Poplar Springs Baptist Church in Shelby is looking for a part-time organist. Responsibilities would be Wednesday night rehearsals and Sunday morning worship. Anyone interested and/or would like more information should submit a resume or contact the church at 704-487-8802. Resumes may be mailed to Personnel Committee, Poplar Springs Baptist Church, 1106 Poplar Springs Church Road, Shelby, NC 28152.
---
Race Path:
Race Path Baptist Church, Ellenboro, NC, is searching for a part-time minister of music that is interested in planning blended worship services for our people.  Please send your resume to Race Path Baptist Church, 1171 Race Path Baptist Church Road, Ellenboro, NC 28040 or email the church at [email protected]  If you email our church, please place "PART-TIME MINISTER OF MUSIC" in the subject area.
---
Walls Baptist:
Walls Baptist Church is seeking a part-time Minister of Music. Interested candidates may send resumes by email to [email protected] or mail to Walls Baptist Church, 645 alls Church Road Bostic, NC 28018. Walls Baptist Church affirms the Holy Bible as the inspired Word of God and the basis for our beliefs. Candidates must be Christian in character, spirit, attitude and practice. Worship style is traditional.
---
---
Administrative:
Fallston:
Fallston Baptist Church is seeking a part-time secretary to begin January 2023. Please send resumes through December to Personnel Committee, Fallston Baptist Church, PO Box 116, Fallston, NC 28042.
---
New Hope: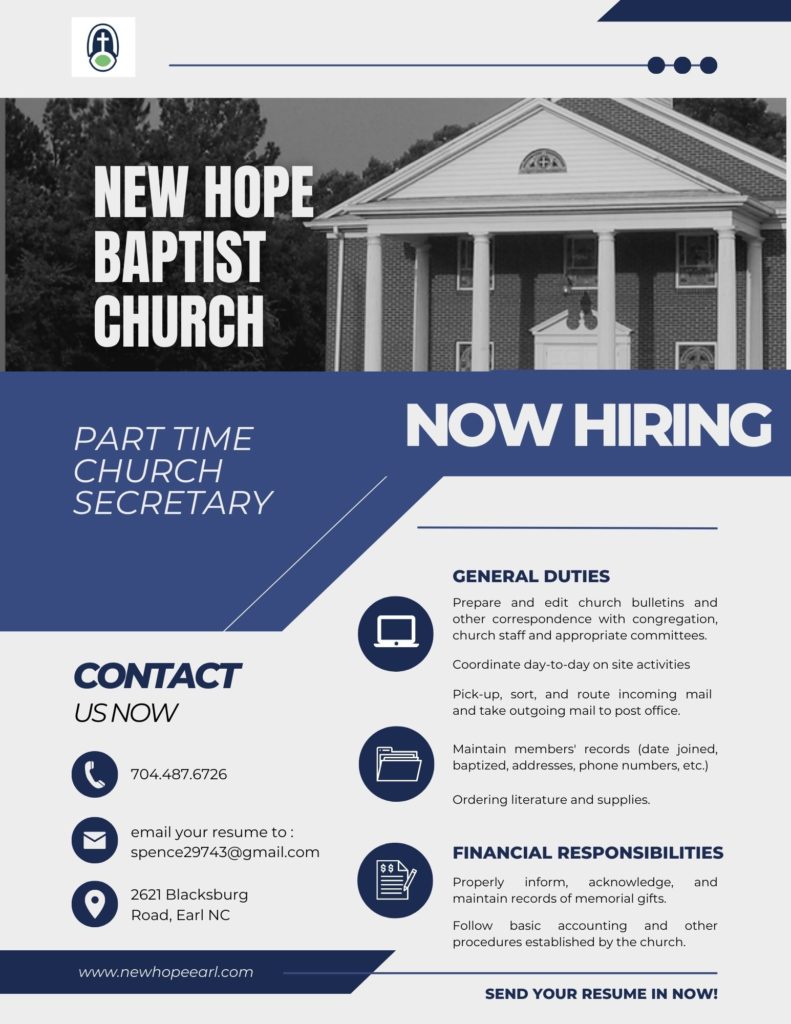 Pleasant Ridge:
Pleasant Ridge Baptist Church has an opening for an Administrative Assistant.
The hours are 8:30 AM—2:30 PM (Can be flexible)
The pay is $18 per hour
This is considered a part time position
Resumes can be sent to [email protected] or faxed to 704.434.6438
---
---
Updated: 12/6/22