Polkville Baptist Church will sponsor a women's event – please join us!
At the Well Experience  
Polkville Baptist Church
September 18, 2021
Meal – 11:00 am
Event – 12:00 pm
This event is free but you will need to register online with the link below:
---
https://www.crossroadsmarriageconference.com/
A healthy marriage doesn't come naturally. It requires constant attention, love, and a lot of wisdom. Whether you've been married for fifty years, just got engaged, or newly married, this conference is for you.
We're excited to partner with Hope Community Church in Shelby, North Carolina in 2021 to host two amazing days that can transform your marriage! This conference is more than just a glimpse into what Godly-relationships look like. You'll learn healthy habits, gain wisdom in preparation for marriage, receive tools to strengthen your relationship, and ultimately see how God's Word elevates marriage as a powerful witness of His love for us to a watching world.
---
Chestnut Ridge Baptist Church in Kings Mountain will be hosting a "WAFFLE" (Worship, Activities, Fellowship, For, Life, Enrichment) service on Wednesdays starting on March 3, 2021. This is for Seniors and their Caregivers. Masks are required. This will be a time of worship, fellowship and other activities. We see a need for this in our community now more than ever. With no activities happening at this time for them we feel led to do what we can for our seniors in our community and surrounding communities. 
---
---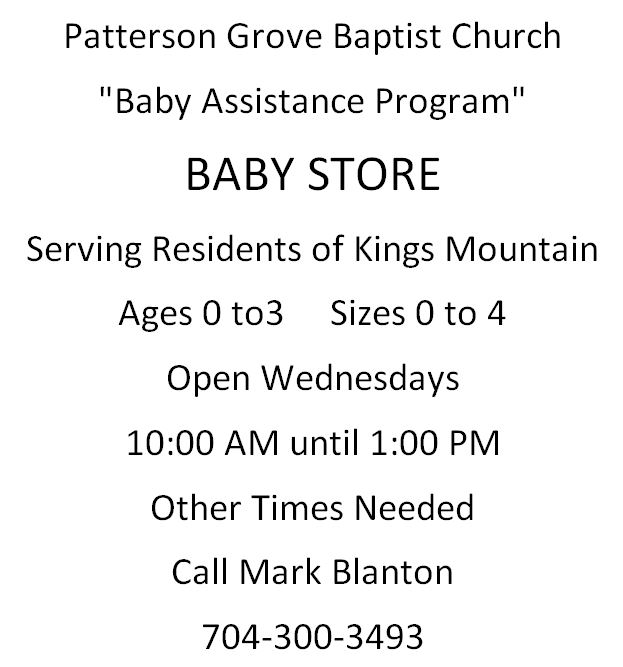 ---
---
Pleasant City Church- Single Moms Group
Meets every Sunday morning at 9:30. All children will have a fun place to learn about Jesus while the group meets. Call or text Sharice Lathem 704-477-0602 for more information.
Pleasant City Church 1146 County Home Rd Shelby NC 28152
---
Other Mission Opportunities
The Hospice store in Shelby is requesting volunteers to help with pick ups and deliveries and help in the store loading and unloading items. Volunteers can come in for 2 hours or more a month on a set schedule. Group ideas of volunteers are Men's groups, Women's groups, Bible Studies, Youth groups, Baptist Men's Mission Camp. If you or your group are interested in helping this local store that gives the money to local hospice places, you can contact Angela Jones on her cell phone at 980-295-8578.
---