---
Announcing the annual Cleveland County Potato Project Dinner. On Thurs, Feb 7, CCPP will be home to one of the county's major social events. Starts at 6 p.m. at the Baptist Work Camp on Sharpton Rd in Shelby (same site as last few years). Cost is $8.00 per person but amounts over 8 big ones will be accepted with no questions asked.
An exciting night of music, fine feed, and great speakers is planned.
Anyone who dug, gave, prayed, begged, and cares for feeding hungry people is welcome to attend.
Please make reservations by sending me an e mail or calling 704 472 5128. If a sensible conversation is desired, call Norma.
---
The H. Lawrence Patrick Senior Center in Kings Mountain, NC will be having their annual Black History Program on February 12, 2019 from 9:30 am-11am.
Please join us for a morning of music and entertainment with a special guest speaker that will be speaking about African American contributions to our country.
All are welcome and a lite lunch will be served after the program.
704-734-0447 Karen Grigg
---
---
Monday February 18, 2019 is the Region 8 Missions Rally! This a great time of worship and fellowship with churches in our region. The meal is free, you just need to RSVP. Meal begins at 5:50pm and the Worship at 6:50pm. It will be held at Burkemont Baptist Church in Morganton.
---
---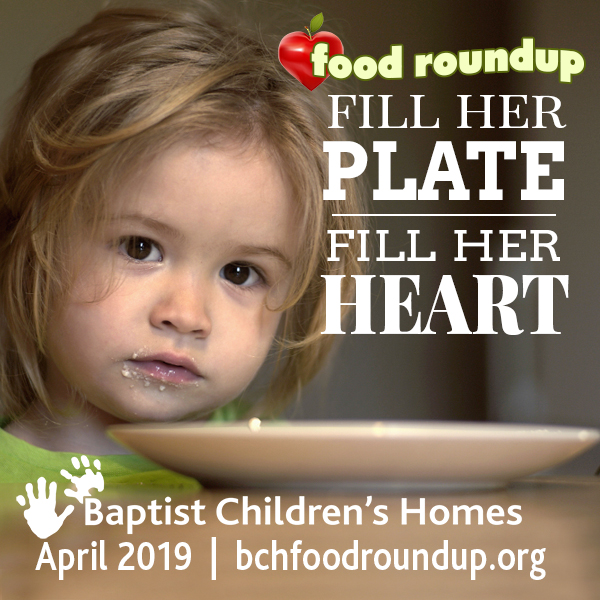 ---
The 2019 NC Missions Rally is a GREAT yearly conference. There's breakout sessions, worship, testimonies, etc. It is April 5-6, 2019 at Hickory Grove Baptist in Charlotte. Here's the link for more info.
https://baptistsonmission.org/events/missions-conference
---
Get your church ON MISSION! Operation InAsMuch 2019
April 27, or May 4th!
For more information visit, http://gccba.org/operation-inasmuch/
---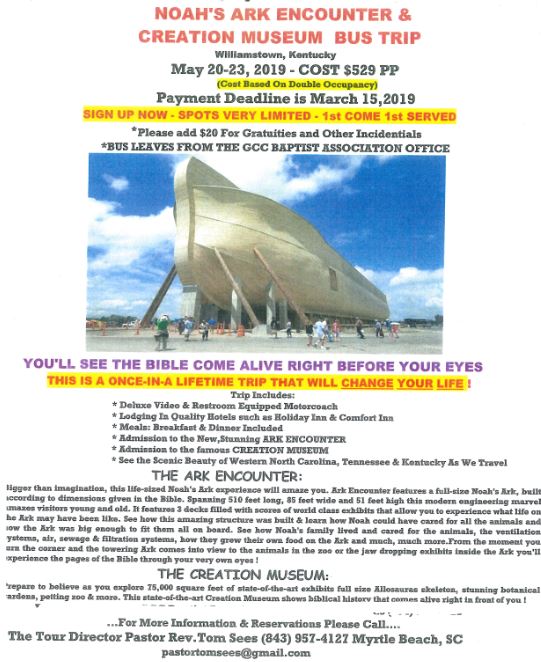 ---
"Truth & Tea Time"
Events are from 6:00 pm – 8:15 pm
Meal in the Family Life Building 6:00 pm – 6:55 pm
Program in the Sanctuary at 7:00 pm
Doors open at 5:45 pm
Nursery Doors Open at 5:55 pm
*Door prizes*     *Note: Speakers may have merchant tables*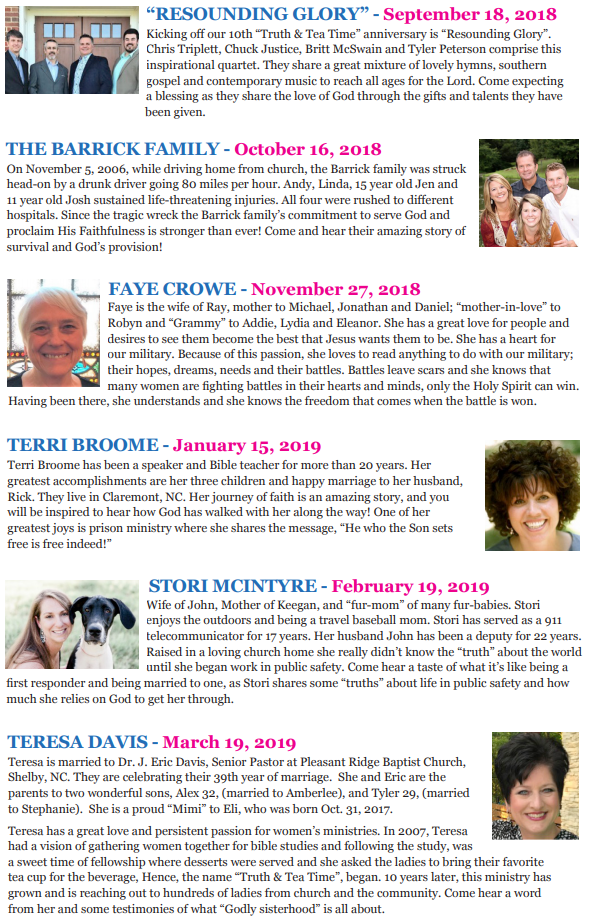 ---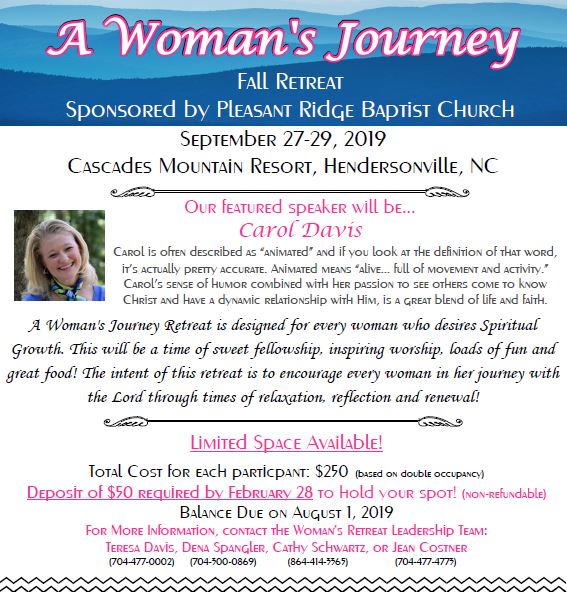 ---
Other Mission Opportunities
The Hospice store in Shelby is requesting volunteers to help with pick ups and deliveries and help in the store loading and unloading items. Volunteers can come in for 2 hours or more a month on a set schedule. Group ideas of volunteers are Men's groups, Women's groups, Bible Studies, Youth groups, Baptist Men's Mission Camp. If you or your group are interested in helping this local store that gives the money to local hospice places, you can contact Angela Jones on her cell phone at 980-295-8578.
---
"Music of Forever"
"Music of Forever" grew out of a lifetime of experience in ministry, music, and drama. The Lathan's both come from strong Christian backgrounds and are so excited to share their original melodic drama with you!
The music presented encompasses multiple styles. The listener will hear Classical, Gospel, Reggae, Rock, and Contemporary songs all within a Christian setting. There is something for everyone to be able to connect with the love of Christ. Stirring soliloquies from those close to Jesus will engage and carry the audience into the world of hope everlasting! In just under an hour, your assembly will be transported into the world of Jesus Christ as they witness his ministry of everlasting love. Come meet those who were closest to Jesus   …Hear their stories, Witness their miracles, Be present at the Resurrection!!!  This intimate production provides Alan with the setting necessary to bring the audience into the world of the Christ as he takes you on the journey of Jesus and his ministry, while Hillary sets the atmosphere with sacred piano pieces that encompass music from contemporary to classical styles. Follow the path of love led by Jesus.
 "Music of Forever!!!"  CONTACT INFORMATION: (843) 415-1703     [email protected]  www.musicofforever.org