---
---
Reserve your spot today to attend one of the three Senior Adult Ministry Regional Leadership Gatherings planned for this fall!
The Gatherings will encourage ministers and lay leaders to recognize the value of their leadership as well as the world-changing value of missional senior adults!
Attendees will be inspired to affirm seniors to value their experiences, knowledge, and wisdom–and to infuse them with the knowledge that their neighbors, their families, and the world desperately need them!
Dr. Sandy Gregory, director of NCBAM, along with local senior adult leaders, will share insights on motivating, disciplining, and empowering seniors to continue blessing others and living in the irrevocable gifts and calling of God.Each Gathering will also include music, regional highlights, round-table discussions, and a delicious lunch. Cost is only $10.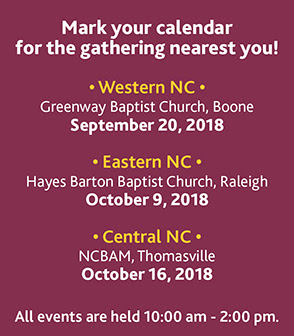 ---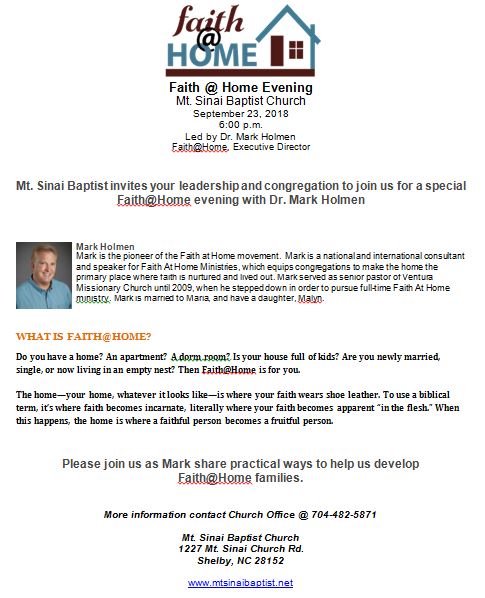 ---
---
HANDBELL CONCERT at Mt. Sinai Baptist Church
Sunday, September 30, 2018 at 6:30 PM
Featuring: The Mount Sinai Ringers, Ringers on the MOUNT (youth handbell choir), and more!  Call Dana Ledbetter if you have questions (704-473-1943).
---
Loving Well Mini Retreat- Pleasant Ridge Baptist Church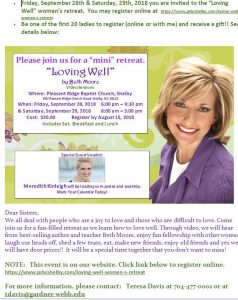 ---
---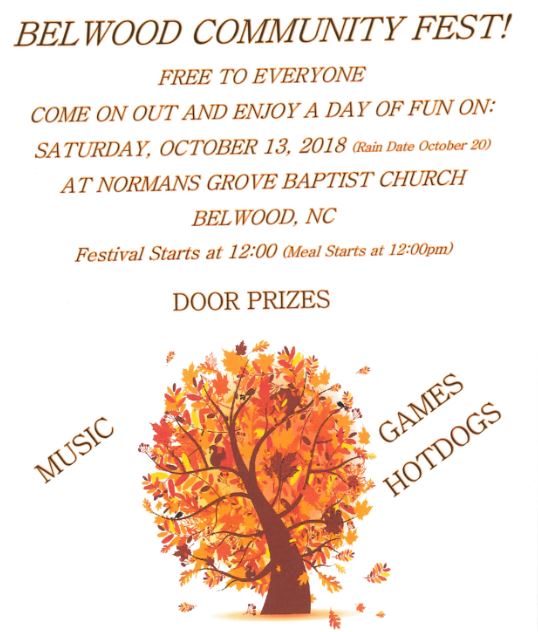 ---
Lily Memorial Baptist Church, 406 Whitener St. Shelby, NC 28152 will have a special singing on the church grounds on Saturday October 13, 2018 from 5:00-7:30. Groups that will be performing will be Three Deemed and The Rock Springs Blue Grass Band. Many local individuals will be performing as well: Sherrie Folk, Jamie Mathis, Keely Curtiss, Chris Francis, Rusty Brown and Phillip Queen. There is no charge. Bring your lawn chair and come and join us!
---
Pleasant Grove Baptist Church
A Celebration of Faith…..140 years
October 14, 2018
Special Speaker – Morning Worship: Rev. Charles Joey Tomlin
(Pastor 1986-1990)
Lunch – Afternoon Activities
Special invitation to anyone who would like to attend
---
---
"Truth & Tea Time"
Events are from 6:00 pm – 8:15 pm
Meal in the Family Life Building 6:00 pm – 6:55 pm
Program in the Sanctuary at 7:00 pm
Doors open at 5:45 pm
Nursery Doors Open at 5:55 pm
*Door prizes*     *Note: Speakers may have merchant tables*
---
Other Mission Opportunities
The Hospice store in Shelby is requesting volunteers to help with pick ups and deliveries and help in the store loading and unloading items. Volunteers can come in for 2 hours or more a month on a set schedule. Group ideas of volunteers are Men's groups, Women's groups, Bible Studies, Youth groups, Baptist Men's Mission Camp. If you or your group are interested in helping this local store that gives the money to local hospice places, you can contact Angela Jones on her cell phone at 980-295-8578.
---
"Music of Forever"
"Music of Forever" grew out of a lifetime of experience in ministry, music, and drama. The Lathans both come from strong Christian backgrounds and are so excited to share their original melodic drama with you!
The music presented encompasses multiple styles. The listener will hear Classical, Gospel, Reggae, Rock, and Contemporary songs all within a Christian setting. There is something for everyone to be able to connect with the love of Christ. Stirring soliloquies from those close to Jesus will engage and carry the audience into the world of hope everlasting! In just under an hour, your assembly will be transported into the world of Jesus Christ as they witness his ministry of everlasting love. Come meet those who were closest to Jesus   …Hear their stories, Witness their miracles, Be present at the Resurrection!!!  This intimate production provides Alan with the setting necessary to bring the audience into the world of the Christ as he takes you on the journey of Jesus and his ministry, while Hillary sets the atmosphere with sacred piano pieces that encompass music from contemporary to classical styles. Follow the path of love led by Jesus.
 "Music of Forever!!!"  CONTACT INFORMATION: (843) 415-1703     [email protected]  www.musicofforever.org