Round Table Discussions
These round table discussions will give ministry leaders the ability to discuss and talk about their ministries. What's working, what's not working, how we can improve, and work together, and we will talk about how the ministry helps your church accomplish its mission and vision.
All Meetings will be held at the GCCBA OFFICE:
Retired Ministers – Monday, March 19, 2018 at 10:00 AM
Sunday School Directors/Small Groups Coordinators – Monday, April 30, 6:30pm
_____________________________________________________________________
Spring Bible Study
Join us Tuesdays for our Spring Bible Study beginning Tuesday, March 6 at 10:00 AM.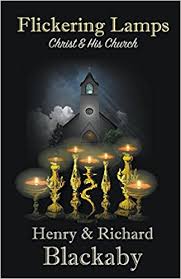 Wesley Smith, our Associational Missionary will be leading a study from Blackaby Ministries, "Flickering Lamps: Christ & His Church." Call Nicole to order a book.
Tuesday's
March 6-April 10, 2018
10:00 AM-11:30AM
---
Bible Drill
The Associational Bible Drill will be on Sunday, March 25th at
Beaver Dam Baptist Church at 3:00 pm
---
Senior Adult Rally

God's Greatest Treasure
Guest Speaker: Marvin Greene
Thursday April 12th, 2018
 Boiling Springs Baptist Church
307 S. Main St Boiling Springs, NC 28017
 9:00 am Registration    10:00 am Program
Lunch will be served so please  RSVP by April 4th, 2018
[email protected] or 704-482-3472
---
Operation In As Much 
Saturday, April 28, 2018 or Saturday, May 5, 2018
Contact [email protected] for more info or to register your church!
---
WMU Salad Supper  
Thursday May 10th, 2018
6:30 pm
Elizabeth Baptist Church
All ladies are invited to join us for a time of food, worship, and sharing about mission. Please bring your favorite salad to share.